In terms of investment advice, asset allocation is at the heart of the services we provide. We are convinced that developing and managing an overall asset allocation strategy is the source of creating long-term value.
Intuitae has chosen not to be an asset manager, which guarantees the independence of the advice we give and the monitoring we do.
Intuitec ® is our exclusive method of consolidating assets and liabilities. It provides an overall vision, which is essential for managing an appropriate and effective allocation strategy.
Based on our experience with both listed and unlisted markets, we defend our clients' interests by selecting and monitoring their asset managers.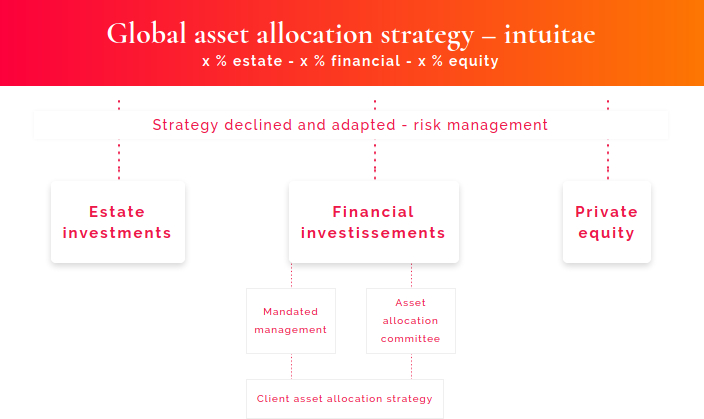 For better financial performance, intuitae has chosen not to be a manager.
Carefully selecting and monitoring managers are the only guarantees for mitigating risk and improving performance. Independent from all financial institutions, we provide our services with total objectivity and propose management choices in the sole interest of our clients. We are also able to negotiate financial service providers' fees without constraints and on your behalf.
The job of our family officers is:
_   to determine the appropriate asset allocation for our clients' projects and needs
_   to select the best managers for the chosen allocation
_   to confirm the relevance of investment proposals with our clients' goals, verify their implementation and ensure their monitoring
_   to generate a durable, strong performance.
To the degree our clients wish to be involved in managing their financial assets, they delegate, or not, the management of their investments either: (1) through their own asset allocation committee that entrusts specific mandates to specialized managers and keeps the responsibility for the allocation, or (2) to one or several managers through investment funds and/or management mandates.
Intuitae helps its clients irrespective of the form of holding: direct, co-investment or club-deal. To do so, we are dedicated to an approach characterised by independence and no conflict of interest. Our objective is to monitor and improve the performance of real estate investments.
Intuitae is neither a broker nor a property manager nor an asset manager. We are paid exclusively by our clients.
Our job is to help you define your real estate investment strategy, implement that strategy and monitor it over time.
Step 1 - Specifications and requirements
Formalising strategy and organisation
We help you determine your strategy by placing it in the context of your overall estate. We evaluate your 'real estate investor profile' and the risks associated with your future investments.
Step 2 - Investment period
Operational deployment of the specifications and requirements
We apply a rigorous methodology for finding and evaluating assets. In accordance with your specifications and requirements and consistent with our assessment of the market, we identify acquisition opportunities. All decisions are yours alone. Our value is in negotiating the properties in your sole interest.
Our role is to facilitate the relationship with the asset manager in charge of the property:
_ to ensure the business plan is respected
_ to monitor reporting
_ to be proactive, to question and verify
Intuitae proposes tailor-made investment advice for both stocks and unlisted debts.
We help our clients define their investment strategy and diversification in non-listed companies, and in the implementation and monitoring throughout the time the asset is held:
_ evaluate the investment's financial criteria
_ define the investor's profile
_ define the form of investment
_ define the type of assets
_ define the geographic area
We guarantee the objectivity and independence of our recommendations. Intuitae is not an intermediate holding company. We are paid exclusively by our clients.
Our process is based on 3 approches:
absence of conflict of interest
the search for opportunities and deals is made after a thorough study of your investment situation and the precise drafting of dedicated specifications and requirements.
a sound investment
to avoid a too high concentration of financial involvement in any one year, we recommend sound and diversified investments.
methodology
our resources, selection tools and monitoring of holdings are available to our clients.
Financial investment advice provided by the Belgian office does not constitute investment advice in the sense of Belgian law Article 2.1°.5 (October 25, 2016) relative to the job of investment service provider and the regulation and verification of portfolio management companies and investment advisors. The service offered by Intuitae in the framework of financial investment advice is limited to helping its clients, to setting up allocation between diverse asset classes (financial assets, real estate, etc.) and to select asset managers and private banks that answer the needs of clients to implement that allocation with regard to investments in financial instruments.